May 31, 2007
Another oldie from about 10 years ago,... for a magazine I've forgotten about. I do remember it was about consumerism. That's Thomas Jeffereson's study in the background. I thought it would a bit ironic at the time.
Posted by

Mike Cressy
at 9:57 PM
0 comments


May 30, 2007
SFG: Television
This week's theme: Television
For you newcomers, the SFG Challenge runs Thursday to Thursday, and was created to offer every member an opportunity to stretch their creative muscles and post their interpretations on a specific theme. It's a lot of fun!
Be sure to label your illustrations with the appropriate labels as well.
I prefer you label your entries with your name or screenname, and the challenge label, SFG: Television.


Remember, this is a completely voluntary challenge designed solely to stimulate creativity and promote participation. Please don't hesitate to post your other work as normal.
We still have
SFG T-Shirts
available in every size. Show your brand loyalty and wear
SFG
!
I can't stress enough how much I hope you take the time to get involved over at the
SFG
Forum
. There are a million threads waiting for you to start them! Good stuff over there folks, a great way to interact with and get to know your fellow
SFG
'ers on a more personal level.
The next challenge begins Thursday, June 7th, 2007.
Challenge yourselves
SFG
'ers and have a great week!
Posted by

Jeff Andrews
at 10:30 PM
0 comments


Posted by

Mike Cressy
at 8:33 PM
3 comments


The DopePope asked me to contribute to his MetalMan book recently. I'm really excited to be included with some great artists. Thanks Joe!
Posted by

HABBENINK
at 8:09 PM
2 comments


Some days you just need to doodle.
Super-Secret Project #1 was sent out last week and is presently in the hands of The Secret Company. Super-Secret Project #2 is under construction. Life is good.
Posted by

Matt Schuster
at 3:59 PM
8 comments


Posted by

milo
at 3:57 PM
3 comments


I haven't posted in a while so I thought I would throw this up. Cheers!
Posted by

Mike Cressy
at 10:32 AM
5 comments


Posted by

irisz
at 10:14 AM
3 comments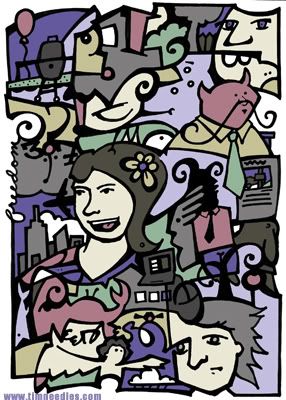 It's a little late but here's my angels, demons, and thoughts of upcoming vacations.
Tim
Posted by

Needlesville, N.Y.
at 9:12 AM
1 comments


this kind of made the rounds a couple weeks ago, but i thought a few people here that haven't seen it might enjoy it. :)
-
me
!
Posted by

mike
at 8:00 AM
3 comments


Posted by

Anonymous
at 7:58 AM
3 comments


I was commisioned to do this illustration for a magazine cover to commemorate the 50th anniversary of the US Air Force. The planes flying away from you are B-50s, being the first aircraft designated as Air Force in September of 1947. The wing-like aircraft flying toward you is of course, the well recognized B-2 Spirit, the Air Force's first operational stealth bomber.
Enjoy!
Canvas size; 18"x24"
Medium: Oil
Posted by

Anonymous
at 7:15 AM
6 comments


Vote for me
!
Again
! And then post something yourself so I can vote for you too!
Everyone got Jeff's email, no excuses! I found out about Custom52 last week and I had designed some cards so I thought it would be fun. So far, my entries seem to be unique in that, like 98% of the rest are full-on graphic design. Get IN THERE folks! They need a serious infusion of illustration!!
I'm hoping to do at least one more myself.
Posted by

melinda beavers
at 4:45 AM
0 comments




I design "custom" wine labels for a living. I make labels that people can customize with a message and I partner with a wine store in New York City that re-labels wine with them for me (1 bottle at a time). Here are a couple of labels that aren't in main circulation and that I havent found an audience for yet - oh- you guys!

if you want to try / check out the custom wine labeling thing please visit: www.67wineCouture.com


Posted by

annita
at 4:37 AM
1 comments


Posted by

irisz
at 4:07 AM
3 comments


This is one of the pictures for my new year-long art/illustration project '
A Family Portrait
'. I will be doing a portrait a day of each of the members of my family (me, husband, daughter, three sons and the dog) for a year and have fun trying lots of different styles. The great thing is that they are used to my sketching and so are completely desensitised and don't take it personally if the portraits are unflattering. This one is of my middle son Hugo after washing his hair.
Posted by

Julie Oakley
at 2:22 AM
1 comments


Posted by

Unknown
at 2:06 AM
2 comments


an older illustration that was not published
Posted by

nadja
at 1:50 AM
2 comments


You have to write the story your self
Posted by

Mattias Adolfsson
at 12:48 AM
1 comments


Here's some older drawings I thought I'd share. The common theme...things coming out of mouths. (Not that it really ties them together.)
www.SoundsLikeBlue.com
Posted by

Adam Levine
at 12:17 AM
0 comments


May 29, 2007
Posted by

milo
at 10:47 PM
2 comments


The latest
Design Inspiration interview
is with my friend and fellow SFG'er Steph Doyle. It's a wonderful interview with a lot of great insight, be sure to check it out.
Read it, Love it, Comment it!
-Jeff

http://www.diinterviews.com
Posted by

Jeff Andrews
at 9:49 PM
1 comments


I'm digging back into an older sketchbook. Here's one I always liked and since Barry "The Walking Drugstore" Bonds is about to break the all-time home run record, this one is pretty timely.
Posted by

josh pincus is crying
at 9:33 PM
0 comments


Posted by

Mike Cressy
at 8:42 PM
0 comments